Make sure you read all the way through, I provide a secret tip for Google+ Users at the end.
I recently found this site, and signed up, so I figured I would give everyone a review of monitorbacklinks.com.
I have also been working with Razvan, the CEO, and he has offered to provide a coupon code to use and upgrade to a premium plan, that will get 3 months of a premium plan for the price of one.  Use this Link and Enter This Code: OFF50NHT6JABM for discount!
Here is a brief intro video before you read my review:
One of the things that is necessary to market any business online, is to monitor backlinks.  Backlinks are an essential part of search engine optimization, and having many links that point back to your site is an important part of SEO (Search Engine Optimization) for your niche site business.
Knowing when and how these links change, can allow you to make important business decisions related to your SEO strategy.  The problem is, that these links are not all equal in value, and they can change every single day.  It can be a very time-consuming task to monitor and build those links, as well as understand how important each one of them is. While the process of keeping track of your links is not new, there are new tools that will allow you to simplify the process.
So, I found a company called Monitor Backlinks that has an excellent service to help you with this part of your SEO strategy.  Monitor Backlinks can help automate this process for you. They have a number of plans available to help manage your domains, and backlink profiles. They help startups, SEO consultants, agencies and small to medium businesses, and of course… niche website builders.
Monitor Backlinks allows you to get started for FREE!, for 30 days.  They have three plans that range from $19.90 to $99.90 per month after that.  All their plans include a number of time-saving services.
The first benefit is that you don't have to go through a long verification process for your domain.  When you first sign up, you just add your domain, as well as some competitors if you choose, and they get started monitoring your backlinks right away.  This avoids any delay they may find with other providers.
Monitor Backlinks will also provide reports, that they send directly to your email address.  Many times for other services you have to go to the provider's website, which can be cumbersome and time consuming.  They make this simple and easy by sending email reports directly to your inbox, which I love.  This  allows you to make sure that the results are brought to your attention, and  won't simply go unreviewed.
As you may know, not all backlinks are created equally as Penguin 2.1 proved.  Each link, can have a different value assigned to it based on a number of metrics.  Monitor Backlinks will provide you with a number of metrics so you can clearly understand which SEO links, are the most important to your business. This can save a lot of time and money, by having all the important information about the quality of your links in one place.
Now, having all of these metrics in one place is helpful, but Monitor Backlinks also allows you to filter these results. You can manipulate the results in various ways, so that you can clearly visualize what to do next. You can add tags, arrange by statistics, and filter by certain metrics.  This is a vitally important aspect of what Monitor Backlinks can do for you. While it is helpful to have all the information in one place, the ability to arrange it in a way that allows you to take action, and further improve your SEO,  is arguably more important.  Monitor Backlinks does a great job of allowing you to do that.
All the plans also include the ability to export the links via PDF or Excel reports. This is helpful for your records,  and also gives you the ability to send these reports to your clients.
Adding additional links is easy, and you are able to do this both from your browser or their bookmarklet.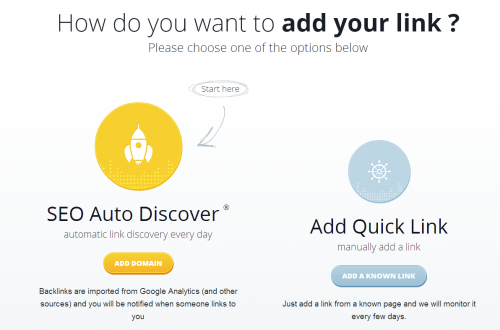 As mentioned before, Monitor Backlinks offers three separate plans, depending on your needs.  These can be paid monthly, or annually if you would like to save 20%.   All plans come with a 30 day free trial, which does not require a credit card!!
Here's an overview of the three plans monitor backlink offers: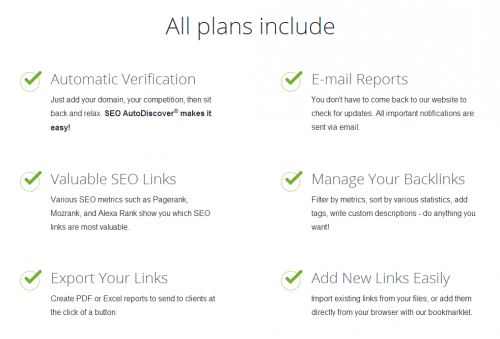 Start:
This plan starts at $19.90 per month, and is geared towards startups or freelancers.
It allows you to monitor two domains.   They will check these domains daily so that you are aware of any new links to your website.  In the Start plan, they will monitor 50 keywords, and up to 500 links. It will also monitor two of your competitors domains. The start plan also will monitor of the 500 of your top competitors links as well
Plus:
This plan starts at $49.90 per month and is geared towards SEO consultants and other small businesses.  The Plus plan will allow you to monitor five domains, so that you know of new backlinks on a daily basis.  This plan also includes up to 200 keywords and 5000 links. It will allow you to track for competitors domains, and up to 1000 competitors links.
Professional:
The professional plan starts at $99.90 per month. Is geared towards agencies and medium-sized businesses. As with the other plans it does come with the 30 day free trial with no credit card required.  It will allow you to monitor 10 domains on a daily basis, so you are aware of new links. You can monitor 500 keywords and up to 15,000 links.  Four competitor domains are able to be tracked, as well as 1500 of the top competitors links.
So, as you can see, there are a number of plans to fit a wide variety of needs. Whether you need to monitor your own websites SEO and backlinks, or a large number of clients websites (for you SEOs out there), there is a plan to fit your needs.  They state that technical knowledge is not necessary for you to use Monitor Backlinks, and it does not affect your server or computers processing power, and I would agree with that statement… but to be fair, I feel I am a bit more techy than most.
Use this Link and Enter This Code:  OFF50NHT6JABM for discount!
Free Backlink Checker SEO Tool
Why Use Monitor Backlinks?
Here are 3 of the many good reasons to use them.
First, if someone mentions you in their blog, does a review of a product, service, or niche site you produced.  They check every day for new links pointing to your website and let you know as soon as that happens.  They will send you an e-mail with a link to that article so you can thank the blogger for the review or ask for feedback from his/her readers.
Second, you can monitor links that you have worked hard for, rented or purchased.  Your marketing efforts are never easy, and most likely not what you would consider free.  If you are like me, you spend a lot of time, energy and perhaps money to get traffic from really good sites that cover your niche, or to convince the "linkerati" (yes, Brian Dean… now I am saying it" to link to your website, or a from a guest post.  Well what happens if one of these sites you pour money into removes your valuable link after just a short period of time?  If you purchased or rented the link, then that would be awful and needs to be addressed.  Monitor Backlinks will let you know almost instantly!  In this way, you are always aware of what is happening with your brand outside your website and the community will surely appreciate your involvement.
Finally, you can be a ninja and track your competition using this tool.  You most likely don't have the same size budget as some of the big players in your industry.  Your competitors are constantly spending valuable time and resources to find new websites that will link to them.  Using this tool will allow you to monitor their activity and send you an e-mail every time they get new backlinks. You can follow their footsteps and keep up!  This is simply setup with and "auto-discover" tool that they have.
Overall, Monitor Backlinks could be a valuable tool to add to your SEO toolbox. It can save time and money, and has some excellent reviews (aside from this one of course). It allows you to avoid the process of manually monitoring your backlinks, and keeps you up-to-date daily.  To get started with their 30 day free trial you can easily register, add your domain, and begin right away by visiting their website.
Cool tip from CEO of Monitor Backlinks:
Below you can view a 10 minute screencast video that describes how you can get a good link from your Google Plus profile and how to avoid making Google ignore that link (making it nofollow).  His accent may be difficult for you to understand… I had to watch it 2x.