Listen in iTunes

Today I want to talk to everybody about the importance of your niche websites blog and 10 secrets you can use for increase engagement of that blog by over 300%.  More engagement leads to more customers and more traffic.
Let's be quite honest to start with,  the blog on your niche site probably stinks. Your blog probably stinks because you don't have time to do it right.  I hate to be brutally honest like that but let's be realistic, most niche sites do stink.
The good news is, yours won't after you implement these 10 secrets!
1.  Use shorter sentences and shorter paragraphs.
The first secret is to use shorter paragraphs.  Unfortunately most people think that it's important to use long long paragraphs and that it will keep people stuck on the page, but the reality is, your paragraphs should be short and should only be anywhere from 1 to 5 sentences.

Spacing out your paragraphs into small chunks also makes it easier for your readers to view.  Don't overwhelm people with too much text or they will leave your site within the first 5 seconds.
2.  Make sure you link to your own content.
The second secret is using an internal linking structure.  Not only is this really  important for SEO purposes to link to old posts and other pages but it's also a great way to keep people on your website by having them click on your other articles.
It is also helpful to link to related blog posts using good quality anchor text that's relevant to that blog post.  This will help to keep people engaged for example when you talk about web hosting like I just did, you want to link to a search engine optimization page.
That's a great example of using internal linking.  You can also take it a step further by adding a related posts link either in the middle of your post or at the end of your post to keep people reading.
3.  Speed up your website.
The next secret that you want to implement is minimizing page load speed. I experience this issue all the time.  When I visit a website and it takes about 20 seconds just to load, I quickly decide that the page isn't worth viewing.   If it's going to take 20 seconds just to load a page, you certainly won't click any deeper into that site.
Now Google looks at page load speed and decides how you're going to rank.  Google loves fast loading pages because it will affect your bounce rate. (How often people leave your site without going deeper)
I believe your website should take 1 to 2 seconds to load, and to put that that into perspective, Google.com takes 816 milliseconds to load, which is less than one second.
A good free tool to use to measure your page load speed is pingdom.com which is a website speed testing page.
You can use browser caching plugins to reduce load.  If you're ready to commit some cash into reducing your page load speed, then you can also consider using a content delivery network or CDN.
A CDN duplicates your website content across a number of different servers world wide.  It then serves your visitors the content from whichever server is closest to their location.  The increased productivity actually reduces page load time.
4.  Converse with your audience, don't just speak to them.
The next important secret is to use a writing style appropriate to your audience.  I just can't stress enough how important it is to use a writing style that your audience is going to understand.  When writing for the web, there are basically two types of writing styles.
The first is friendly, warm, down to earth, conversational tone which is what I've tried to write with and the other is a more professional, more formal tone.  More formal which would be when writing for doctors and lawyers, but not their clients.
Nearly all blogs are going to want to use the down to earth style.  It's a perfect fit for information oriented blogs, personal blogs, and just about everything in between.   That's the best part about this style, the conversational tone it takes on will encourage more engagement.
Use personal pronouns, short sentences, and sentence fragments when appropriate.   The formal tone for serious writing will be void of jokes, have longer sentences, bigger words and will be more likely lose the audience quicker.
5.  Make your site clean.
The next secret is to avoid a busy look on your website.  Busy websites are really bad.  If your website is jammed with 36 sidebar widgets and has about 135 different plug-ins or has a hideous theme, it could be disastrous for your blog.
You should be using no more than one font throughout all your text on your site.  Don't go overboard with widgets either.  I personally recommend having a subscription form on your website and some social sharing buttons, but not much else.
You should really try to avoid images in the sidebar whenever possible.  They can really distract readers from what they should be doing, which is reading your content.
6.  Grow your list!
This is no secret to many, but it is critical. You should have a subscription form at the end of every post.  This is a perfect way to recycle your traffic and keep it coming back.  When you email your list about new updates, they are much more likely to come to your site than just returning for no reason.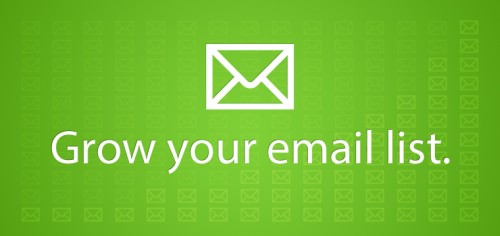 Growing your email list is the next step towards growing your revenue!  All you need to do is insert form code at the end of every post with a clear a call to action to get your visitors to subscribe. A good idea to have a free subscriber-only report, video or something of value for signing up.  Don't have an email list yet, check my resources page.
7.  Integrate "related" content into your posts.
The seventh secret to building engagement is displaying related content at the end of every post.  This ties in with the 2nd secret about internal linking structure that I mentioned earlier.   This can posted automatically using a plugin.  YAARP is a great plugin for this… it displays related posts and pages and you can see either a thumbnail or text.
Here are a few more articles you might enjoy.
You see what I did there? 🙂
8.  Social Sharing
Ok, so this isn't much of a secret either, but you need to get social.  This is pretty obvious, it's very important especially after all the recent Google updates about social marketing integration.  When the Google spiders crawl through your website they look for social signals that indicate your site is popular.
If they see social signals, they will reward you with higher rankings. There's no easier way to get content shared then to have a social sharingplugin on your site.   My favorite is AddThis and I like to use it on the majority of my websites.
It takes no more than a minute to set it up.   It looks great and its used by quite a few popular blogs.  It's also a floating plugin which means that as you scroll down the page,  it will allow you to keep the social share buttons in front of your readers.
Another important thing to consider is updating and maintaining your social profiles for your business.  I'm going to suggest you focus on Facebook, Twitter, and Google+ to start with.
9.  Clear Navigation
Having clear navigation menus is critical.  A navigation menu is the bar across the top of the website that displays the important pages, categories and links for your website.   Make sure that you use appropriate  sub pages when necessary.   Avoid creating menus with too many different items.
10.  Color schemes.
Be sure to choose a color scheme that doesn't reek havoc on the readers eyes.
Black on white is what human eyes are used to and you don't want to mess up with routine.
Summary
1.  Short paragraphs that are three to five sentences max.
2. Use an internal linking structure that includes relevant blog posts and anchor text.
3.  Speed up your page loading time.
4. Use a writing style appropriate to your audience.
5.  Use a clean site.  Busy sites cause people to leave.
6.  Have an opt in form at the end of every post to grow your email list.
7.  Show related articles at the end of each post.
8.  Use a social sharing plugin and maintain dedicated social profiles for your website.
9.  Use clear navigation.
10.  Using appropriate color scheme that displays black text on a white background.
11.  Bonus Tip – Thanks for reading all the way down.  Use lots of pictures and videos.  This alone can increase engagement significantly.