Your content marketing strategy should be approached a little differently if your business offers professional services, like practicing law, medicine, or performing some form of consulting work.
This is because you're largely capitalizing on expertise to serve your clients, not just pushing product benefits. Demonstrating that expertise is going to be crucial to building trust with your audience, which in turn leads to inbound inquiries.
That being said, let's nail down who your audiences are, since there are actually TWO primary groups you'll want to target. From there, we'll look at some tactical strategies you can employ to start using content marketing for professional services on different media channels.
First Up: Who Are You Attracting?
"Clients" is the obvious answer here. You're definitely going to need messages going straight to the people who are going to be writing checks for you. It's the other, not-so-obvious target that may actually bring the most value to your business development, however: referral partners. This group is going to be made up of professionals just like you. They won't be in the same industry (those are competitors), but tangential ones. Here are a couple of examples of these symbiotic, "you help me, I help you" relationships:
Estate Attorney + Financial Planner
Cardiac Surgeon + Family Practice Physician
Business Consultant + Enterprise Software Salesperson
You can see a trend in these relationships, where one professional is usually a specialist and the other provides more general services. In the case of the first example, a single financial planner may have a variety of go-to attorneys in different practice areas so they can best serve their client when the need for legal assistance arises. Alternatively, the estate attorney probably has relationships with a number of financial planners in the same role, so that he or she is maximizing the probability of a referral coming through. Think about which role you can play for your network – the generalist or specialist.
Don't think you're fooling anyone, fish. We all know you swim better than you climb. Stick with what you're good at!
In both cases of communication (client or referral partner), the main goal is to advocate that you have the audience's best interests at heart. For clients, that means solving their problems thoroughly and quickly. Referral partners are going to need assurance that you know what you're doing, and, when they hand off their client, that you're going to reflect positively on them… by solving the client's problems thoroughly and quickly.
Now, you and I know that you're wholly capable of meeting those needs without a problem. The issue is that they don't know. In content marketing for professional services, your main goal for messaging is to demonstrate that you're the expert. Another name for this type of communication is authority positioning.
How to Show that You're Top Dog
Fact: When you're on top, you tend to smile more.
There are three primary messages that fall under the umbrella of authority positioning. The overarching intent of getting your messages out there is to draw attention to your business, but each message actually has its own sub-objective for showing that you're the market expert. Let's look at these types, then expand on the best ways to deliver each to your audience.
Authority Message #1: Tips & Advice
This first one is a no-brainer. How can you best show that you know the solution to a problem? By sharing that solution! You have the perfect sample to draw from when identifying these problems, too: real-life, existing clients.
Every now and then you'll work with a completely unique and challenging case, but for the most part, a lot of people (read: more than you're currently working with) are asking the same core questions. Offering answers to common client questions helps you capitalize on where they're already looking. As for those unique curveballs, share the occasional example to show that you can overcome any problem. They'll also help differentiate you and keep your content interesting.
Sub-Objective: Show that you're ready and willing to be helpful.
Authority Message #2: Case Studies
When you share advice, some content will click for your audience and be useful just based on context. The majority of clients and referral partners are going to need some more convincing, however.
Case studies act as a vehicle for you to deliver concrete evidence that your services have helped others. In a more subtle way, they also serve as a testament to your process and show that you're results-driven. If you're keeping track of your clients' success, it means you care about the actual outcomes – not just about signing agreements.
Sub-Objective: Show that you care about the end result – and that you can achieve it.
Authority Message #3: Analysis of Relevant Current Events
Considering the events of 2016, the world is crazy and literally anything can happen. That has an effect on your clients. Take a fixed event, like, I don't know, the 2016 U.S. presidential election. Without even taking a political stance, it's easy to see that a central event like that sends out ripples in every direction, holding implications for economics and lifestyle changes for pretty much everyone.
If you can think critically about what that event can mean for your clients, you can deliver some professional insights on the subject. That way, you're capitalizing on a hot conversational topic and demonstrating your problem-solving skills.
Sub-Objective: Show that you're in touch with what's impacting clients' lives, and that you're prepared serve in any situation.
Now even if you build these types of messages, you have to make sure your audience is going to see them. Starting an advice column in your local paper may be an option, but unless you're specifically aiming to serve just local folks, you're going to want to try some different channels.
How to Spread the Word
While the messaging may be unique when you're looking at content marketing for professional services vs. something like e-commerce, you're going to use similar platforms.
Remember, you want to put your message in a spot where the right people are already looking. That means capitalizing on SEO via website content, weighing in on social media, and promoting your business at events that are concentrated hubs for building your referral network.
Blogging
Writing blog articles with specific content in response to a highly-trafficked keyword is still going to be your best bet for getting seen organically. We haven't incorporated Google into our lexicon as a verb for no reason, people.
The best way that you can explain what your business does and how you can serve clients is by directing them to your website. Write up blogs that fit into the messaging types described above, and then include links in them that lead to the next useful piece of information.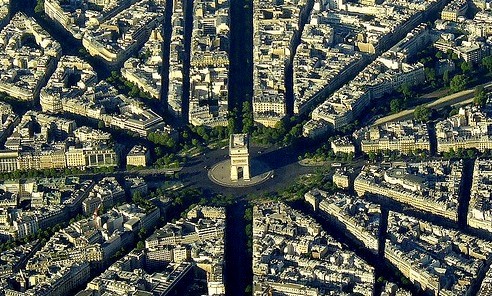 Just like the Arc de Triomphe, all roads should lead to one place: the sale.
Depending on the topic you've written about, you can send visitors to another useful blog topic and continue to build trust, or get them to a conversion point, if they're ready. Putting your case studies into a downloadable PDF format and gating them behind a form is a good way to do that if they're still not ready to schedule a consultation.
If you don't currently have a blog set up on your website, the LinkedIn Publishing tool is a good workaround, though you're going to be limiting your audience to only people active on LinkedIn. Even if you do have a blog, it's a good idea to use LinkedIn for any topics that are focused on attracting referral partners.
Social Media Posting
Speaking of LinkedIn's usefulness for network building, LinkedIn Groups are also a powerful medium for reaching specific professional groups. You can find a Group in your own market and use it as a collaboration platform to overcome tricky client problems, but consider moving to ones outside your industry.
Remember from the first section, professionals in tangential fields are going to be good candidates for referral sources. Head into one of those threads and share your own (relevant!!!) posts to generate traffic, or comment on others' posts to build familiarity until you can start a conversation with them one-on-one.
To speak directly to your clients, sharing your advice articles will be great on Facebook or Twitter, but that's the same old stuff you already know. If you want to go the extra mile, consider shooting some videos where you talk through specific client problems and post them to YouTube.
Video continues to rise in popularity as a content medium, and it helps clients get a better feel for who you really are than any article can. The best part is that, while you want to be wary of things like good lighting and sound quality, you don't need studio access to make a decent clip – just grab a colleague and use your smartphone's camera. Make sure they shoot horizontally, though!
Events & Webinars
We've all been attending grand events like HubSpot's INBOUND conference for years, hoping to come away with some nuggets of knowledge that can enhance our businesses. Attendees all view the speakers at those events as thought leaders and pioneers in their space. So if that's your own goal, how about you host one of those talks?
Pay no attention to the haters, people. You can do it. Source: SomeEECards (someeecards.com)
Granted, there's always an application process, and speaking in front of a ballroom of people is intimidating. It's not for everyone. Webinars, however, are a lot easier to manage and execute, and they make gathering registrants' information very simple.
The important part that's often forgotten, however, is that you want to stick to your authority message. Do not pitch your services, except maybe right near the end. Webinars and speaking events are the perfect platforms to actually do some educating and establish yourself as a leader.
Finally, if speaking isn't really your gig, simply attend some webinars or events where you already have some knowledge on the subject. From there, you can use a webinar chat tool or just do some live Tweeting to add commentary to the subjects presented. Show that you understand the presenter, and share takeaways with the group.
This way, you're participating in the conversation, assisting members of your network who aren't attending, and catching the attention of people seeking answers who you have yet to connect with. This works best if the event has an associated hashtag for attendees to join the conversation, since you know you'll catch someone's eye in that shared space.
Jimmy knows how to live tweet. Source: Giphy (giphy.com)
Follow the Expert's Lead
I searched pretty heartily for examples of businesses who are executing these techniques really well, and found a great model in Practice Alchemy. Practice Alchemy is a niche marketing firm run by legal experts, and they apply their industry knowledge to help law firms to build a marketing strategy. It's apparent that they practice what they preach. At the head of Practice Alchemy is Raj Jha, a former Silicon Valley attorney and clear thought leader in his space.
That's right, clear thought leader. You know it from the second you land on the website because of all the information sharing Practice Alchemy has done. They have an extensive resource library that lawyers can look to for actionable information, including a Complete Guide to Building a Marketing Strategy at Your Law Firm. They have a blog full of more than 150 articles, all of which are clearly made for their appropriate audience (lawyers at small law firms). Raj has even hosted a number of videos online to position Practice Alchemy as an authority – and even has one that explains exactly how to do that.
Seriously, though, if there are any lawyers reading this, you're going to want to download that Complete Guide:
The Bottom Line?
The biggest takeaway that you can draw from this article and from Practice Alchemy's example is that content marketing for professional services is not about pitching and closing (still important, but that's sales). Instead, it's about sharing expertise and just showing that you give a damn about whether the client – or referral partner – is successful. If you centralize your marketing communications around that goal, you're almost guaranteed to find success yourself.